Thermal Printer Labels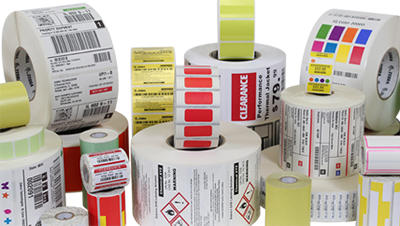 We can supply a range of high quality self adhesive labels to suit your needs.
Thermal Printer Ribbons
Our Ribbons are suitable for all near edge or flathead thermal transfer printers.
Barcode Scanners & Verifiers
Bar Code Verification: Good barcodes make good systems possible. If your customers are relying on you to deliver, you need to make sure that your barcodes meet industry standards. Products such as the Integra LVS 9510 2D Barcode Verifier will deliver industry standard verification at an affordable cost.
A barcode scanner (or barcode reader) is an electronic device for reading printed barcodes, it consists of a light source, a lens and a light sensor translating optical impulses into electrical ones. All barcode readers contain decoder circuitry analyzing the barcode's image data provided by the sensor and sending the barcode's content to the scanner's output port.
Read more about the different types of barcode scanners we can supply.
A barcode is an optical machine-readable representation of data, which shows data about the object to which it attaches. Originally barcodes represented data by varying the widths and spacings of parallel lines, and may be referred to as linear or 1 dimensional (1D).
Whether you require a fixed mount barcode scanner, handheld barcode scanner, 1D, 2D, USB, or wireless scanner try BHTS Labelling Systems for all your barcode scanning projects.
We supply barcode scanners from all the leading manufacturers;
OPTICON, MOTOROLA, PSION, INTERMEC, DATALOGIC, ZEBEX, WASP SOCKET, FALCON and HONEYWELL.
All our 2D barcode scanners verifiers fully comply to GS1 standards, and come in a range of models including wireless and handheld.
Avoid fines and points against your company from the major retailers.