Thermal Printer Labels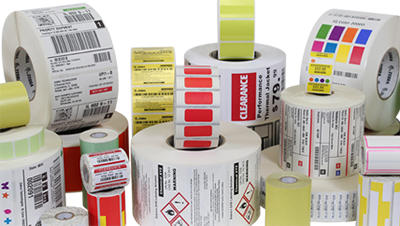 We can supply a range of high quality self adhesive labels to suit your needs.
Thermal Printer Ribbons
Our Ribbons are suitable for all near edge or flathead thermal transfer printers.
Ribbons, Printheads and Labels
Printheads for Thermal Label Printers
We can supply a range of replacement thermal printheads to suit most makes of thermal label printers.
BHTS Labelling Systems can also supply printheads suitable for Ice, Bizerba, Opendate, Printronix, Eltron, TSC, Cimjet, Monarch, Domino, Markem, Citizen, CAB, Eltron, Digi, Eltron, Allen, Herbert and Jaguar printers.
If you own a thermal printer why not try BHTS Labelling Systems for replacement printheads, you will find our prices competitive so call today for all makes and models.
Thermal Transfer Ribbons
Thermal Transfer Ribbons are available for almost any printer application. Our Transfer Ribbons are suitable for all near edge thermal transfer printers or flathead thermal transfer printers All our ribbons fully meet all EU (European) regulations and are approved for contact with foodstuffs. Data sheets can be provided on request.
We carry a good stock of ribbons with fast dispatch to UK and Ireland addresses.
Our Zebra ribbons are for use with all Zebra printers, including the new Zebra ZT600 range, they give outstanding print quality even at lower temperatures. Avery Ribbons are used exclusively on an Avery Dennison thermal printer including the Avery 64 range, our ribbons can print at speeds up to 14 inches per second and when using the ribbon saving feature on an Avery printer can even save you money.
BHTS Labelling Systems can supply Intermec ribbons, Datamax ribbons, Bizerba ribbons, Citizen Ribbons, Sato Ribbons and many thermal transfer printer ribbons.
All BHTS Labelling Systems ribbons have a unique back coating which eliminates friction, reduces wear and prevents build-up of material on the printhead - increasing printhead life in your thermal printer.

Thermal Transfer Labels / Direct Thermal Labels
We can supply quality Datamax labels, Zebra labels, Avery labels, Intermec, Sato and any label for a thermal printer.
Zebra labels compliment the Zebra ribbons giving superb quality print whilst also increasing your printhead life.
Our thermal direct labels are top quality and when used in conjunction with our own BH Ribbons - you will notice the difference in quality of print.