Thermal Printer Labels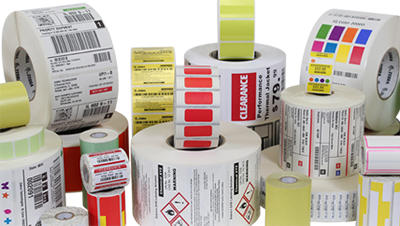 We can supply a range of high quality self adhesive labels to suit your needs.
Thermal Printer Ribbons
Our Ribbons are suitable for all near edge or flathead thermal transfer printers.
Automatic Labelling Machines and Label Applicators

BHTS Labelling Systems supply a range of industrial label applicators to apply pre-printed self-adhesive labels to products, accurately and reliably every time.
Our labelling systems combine extreme robustness with high-performance, and the latest generation is now even more reliable and compact than ever. All BHTS labelling machines are configured for high requirements in continuous operation. 24 hours a day, 7 days a week, and with high dispensing accuracy - makes sure your labels are in the same place label after label and with easy set up ensures your production output remains high with no costly downtime for product change-over.
With over 20 years experience and knowledge in the labelling industry we have labeled just about everything over the years from, bottle labelling machine, CD labelling in fact anything our customers can make or manufacture we can find a solution to automatically label it !
Product Labelling has been our passion throughout the years, we love nothing more than taking a product, from plain old boring to an eye catching product sure to look good on the shelf but also having all information needed to met requirements. Especially with food labelling, you have to be careful to meet all the guidelines regarding ingredients and best before dates etc, this is why BHTS Labelling Systems can advise on labelling software to match your labelling machine.
There are a range of options available and BHTS Labelling Systems can advise on the best solution to suit your application.
We also provide the unique facility to build custom labelling systems to suit our customers specifications. We can offer the full system, including product handling, labelling printing machines and collation of products, all using robust and reliable technology and materials. If you have a product and a label to be applied we can provide you with the system you require!
Some of the systems we provide:
PHL 100
RTL- registration labeller
Top And Bottom
C-Wrap
Wraparound
Single Overhead
Twin Overhead
Flash Applicator
Pallet Labeller

Whether you give preference to a standard solution or a special machine designed precisely for your needs, BHTS Labelling Systems offers you a comprehensive product range from table-top or manual dispensers for adhesive labels on reels, or semi-automatic labelling systems that are loaded by hand, and on to fully-automatic labelling systems.
Customised Labelling System - 4 Sides
Automatic product handling and labelling of 4 sides of products.
High Speed - High Accuracy Label Applicator
BH Technical Services provide custom solutions for High Speed - High Accuracy Label Application.
Semi Automatic Labelling of Round Products
Semi auto labelling of pre-printed labels on to round bottles.
Customised Labelling System
Applying pre-printed labels on to round products with high accuracy.
Multi Purpose Label Applicator
Custom designed multi purpose label applicator. BH Technical Services can create bespoke equipment for your requirements.
Flower Pot Labeller
Custom designed labelling machine to apply labels to flower pots.

Labeller with Wrap Around
Labelling machine to apply wrap around labels to glass jars.

350mm Wide High Speed Labelling
Extra wide high speed labelling on a label press.

High Accuracy Labelling
High accuracy labelling of cartons using a clear black see through window label (slow motion video).
Top and Bottom Labelling of Flat Packs
Automatic feeding of flat pack cards for labelling top and bottom.